SCP Vehicles Addon 1.14/1.13+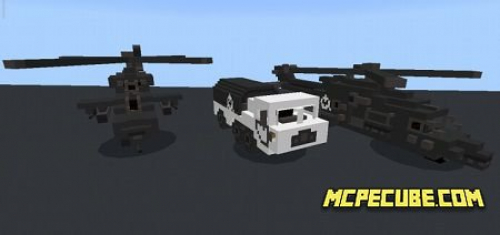 A new addon that adds 4 new types of vehicles to the Minecraft world, each of which can be an ideal addition to your military world, especially if you are building or already have your own military facility, for example, a military base. And in general, the addon will be a suitable addition to everything where there will be a military theme. The idea was taken from the SCP Foundation. Players can now use these vehicles from the SCP Foundation universe in Minecraft.

What does this addon add?

In general, 4 new types of vehicles will be added to the game, two of which will be military, and the other two as cargo.

Let's take a closer look at these vehicles with you:

1. Military Helicopter: This vehicle has 5 free inventory slots. Able to attack enemies and can accommodate 2 players.

The second type of Helicopter is Cargo. It has 27 free inventory slots, and can also accommodate 6 players.



2. Truck: It has 27 free inventory slots and can also accommodate 10 players.


SCP Vehicles Addon 1.14/1.13+