Fire and Ice Mod for Minecraft PE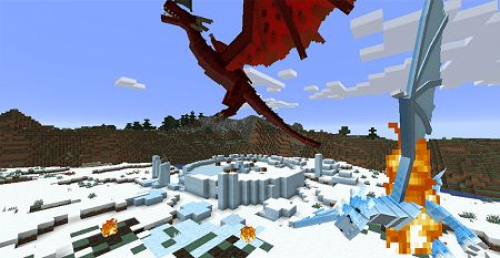 Add new creatures, structures, weapons, magic to the Minecraft world with the help of the Fire and Ice mod. You will be able to improve your hero and go on a fantastic adventure, where there will be dragons, new fossils, and structures.


This mod will perfectly complement the game. New features and functionality will be added.

What's new?

• Blocks and ores. Now in the dark caves the character will be able to get a new type of resources and create perfect items.
• Exclusive items.
• 3 types of armor with special properties.
• Functional blocks such as oven.
• The hero will have abilities and power-ups.

Fire and Blood

This add-on is inspired by a fantasy book, and the author of the mod decided to introduce new features to the world of Minecraft, including mobs, items, and more.

So that the meeting with new creatures would not be the last, the author created Viking equipment, this is armor and weapons that will give the player strength and protection.

Mobs

Basilisk

• Hostile mythical bird.
• Attacks players but can be tamed with wheat.
• Drop: chicken and basilisk feather, which is used to create new items.

Also new creatures include the red dragon, goblin, draugr and mountain goat. All of them have special characteristics and you can get unique drops and equipment from them.


Fire and Ice Mod for Minecraft PE