Mekanism Mod for Minecraft PE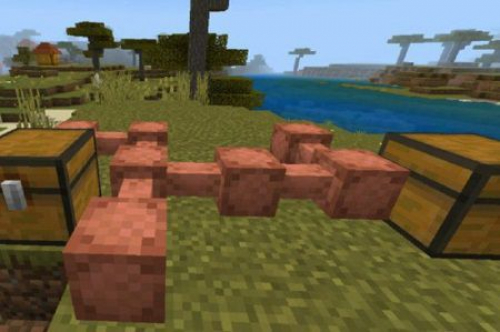 If you are tired of not having enough space in your chests, then we offer you the Mekanism mod. These are automated blocks that will keep track of your place. Now you do not need to worry about whether some resource will fit. New systems will be responsible for transport and storage.

The new items will also have monitors so you can keep an eye on your resources.

Item Dust

Improve your item storage system with this mod. This add-on will give you the opportunity to create an underground warehouse with an automatic system.

To do this, you need to connect the chest, which is located above the ground, with others located underground. The connection is possible using a new closed type conveyor.

How to use? Everything is very simple, put the item in the chest, and it will automatically be transported to the right place, where it will be safe and sound.

Refined Storage

By standard, players in Minecraft store all collected and valuable items in chests. But there are several disadvantages, one of them is a limited place. But the authors of this addon suggest using a device where you can store as many resources as you like and not worry about running out of slots.

The add-on includes three mechanisms: for control, input, and output of elements from the storage.

It is now possible to store more than 2 billion units of the desired block or item. Naturally, this number of slots is not needed for survival mode. As a rule, this is used in various mechanisms or other assemblies with unusual ideas.


Mekanism Mod for Minecraft PE