Bugs Mod for Minecraft PE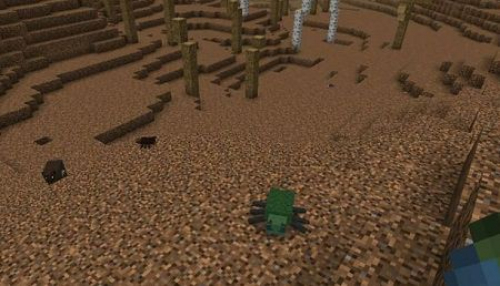 In the world of Minecraft there are various creatures, both kind and aggressive. But if you want to diversify the fauna of Minecraft with insects, then check out our article, in which we picked up a few Bug-themed mods.

Some species will be useful to players during survival, as they can be eaten or received items, but others are worth being wary of or being ready to fight.



Insects

Modification Insects integrates into the game world eight new types of insects and two types of food that can be knocked out of new mobs.
Some types of insects, such as ladybugs, can be fed to follow the player and be useful to them.

But among the harmless will be dangerous species, such as scorpions and scarabs. They attack players and other mobs, so be prepared to fight back.



Stick bug

This mod is not practical, but just decorative, as it adds a harmless and cute green beetle to the cubic world. It differs in its size, but do not be afraid of it. It has no function, but just crawls on the grass.

Wastelanders

This mod adds a whole world devoid of any life, even the trees stand bare without leaves. The desert resembles a zone after some kind of catastrophe. Only insects live there, which were able to adapt to local conditions. Among such mobs are cockroaches, flies, and beetles.



From new creatures you can get meat and other loot.

Some of the new inhabitants may attack the player and cause harm.

Among the food, there will also be new options, such as canned food.
Bugs Mod for Minecraft PE