Hammer Mod for Minecraft PE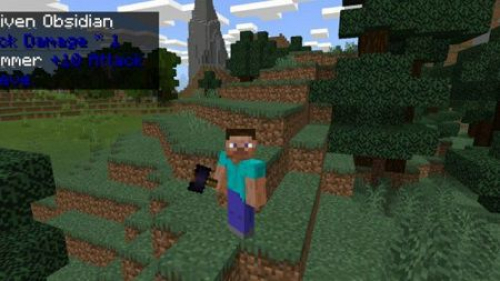 Typically, tools in Minecraft are used to break blocks and collect resources, but Hammer mods expand the functions of these items. Tools will now be available from all materials in the game. They will acquire bulky models and can now be used to effectively defend against enemies.

Mining

This very useful addition will allow players not to spend time creating hammers, but to get them using commands. But you can also use crafting recipes if you like the process.

To get a hammer from any material, you need to enter the commands /give @s new (the name of the material from which the tool will be) in the chat.

Each differs in damage, durability and block breaking speed.

For example, Diamond Hammer adds ten points of attack to the player.

3D

This mod will make vanilla tools bigger and more voluminous. Now in the hands of the hammer will look powerful in the 3D model.

To get new weapons and tools, you need to go to the Creative mode inventory.

Hammer Time

The mod adds new tools, namely hammers, hooks, shovels, and axes. Each instrument has 5 types, ranging from wood to gold. Their features are that the shovel and pickaxe drips in a 3x3 block area, so you can quickly create long tunnels in a large radius. The hook breaks all the foliage on the tree at once.

At the same time, the author tried to make the textures of the new tools beautiful, so that the players would be pleased to work with them.


Hammer Mod for Minecraft PE