Motorcycle Mod for Minecraft PE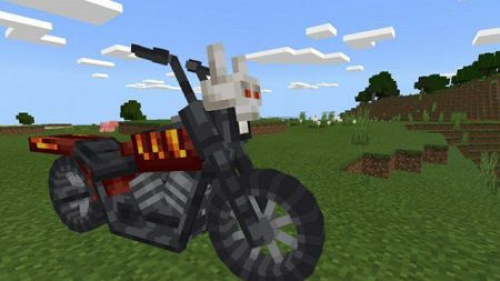 If you are looking for a fast and maneuverable vehicle to travel through the blocky world, then the Motorcycle mod is just what you need. There will be several options for cool and practical bikes to choose from, which have their own characteristics, colors, and technical characteristics. Also, if you can choose scooter or motocross as transport.

Bike

New motorcycles will be generated in the cubic universe instead of spiders. Also, the player can get this transport using a summon egg.

There are several colors of the bike to choose from: green, light green, blue with red, white, and black.

In order for your motorcycle to have some color, you need to set the appropriate texture.

Urban transport

If you want to be cool players, you definitely need a motorcycle. This mod also adds a scooter, ATV and motocross. Each type of transport has its own technical features. For example, quad bikes are better suited for mountain riding. And if you need to ride around the park or the city, then scooters will be convenient.

You don't need to craft anything, all new items are available in the creative inventory.

The author worked on the design and even made a copy of the Harley Davidson motorcycle.

The mod requires experimental settings.


Motorcycle Mod for Minecraft PE