Brawl Stars Mod for Minecraft PE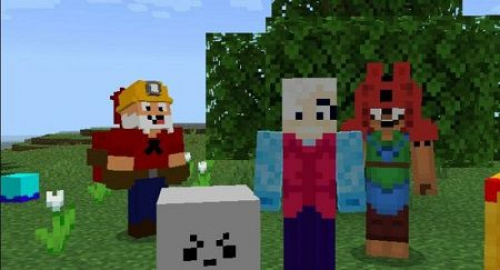 The Brawl Stars mod is made specifically for fans of the original Minecraft-themed game. You will be able to meet new characters that will be generated all over the world. All of them received a number of unique functions, new items and stand out with high-quality elaborated looks.

Brawl Craft

This mod adds characters from this famous game to the game. In the same way, Steve turns into Frank, who deftly handles the hammer. To activate this feature, you need to enter the /function frank command.

Along with the change in appearance, all of his new abilities will become available to you, including an enhanced strike, armor-piercing gloves and an accurate bow.

To add other friends to the world, such as Jolly Rose, Sad Barley, Green Spike, etc., you need to either use a summon egg or enter the command / function mob name.

Brawl Pass

Even more hero from the Brawl Stars universe will be in Minecraft. This kind and fun addition will allow players to make friends with funny characters that will even be useful. Each new mob will have its own characteristics, and they will drop new items.

Among the new characters you can meet:

• Cheerful Rose with an original hairstyle.
• Muscular El Primo in a familiar mask.
• Green Spike.
• Sad Burley.
• Cheerful BO.


Brawl Stars Mod for Minecraft PE