Herobrine Addon for Minecraft PE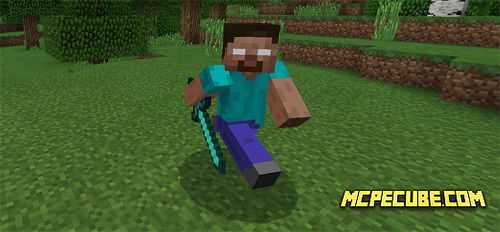 If you have been playing Minecraft for a long time, then you have probably heard about the myths associated with Herobrine. The Herobrine addon adds this creature to the cubic world so that you can fight it yourself, but for this you will need the sword of God to defeat it. You will also receive an unusual skin where your character will have white eyes.

Herobrine and Notch

This addon will introduce four new skins for Herobrine, wreaking havoc and attacking anyone in their path. But this time they will not be able to go unpunished, because a character named Notch will be introduced into the game, with the ability to prevent the actions of monsters.

Type in the command line: /herobrine to add spawn eggs to your inventory. All four types of mobs have unique behaviors and skills.

Here are their names:

• Herobrine 2.0
• Bi-brin
• Fiery
• laser

Notch has the strongest abilities, because he knows everything about Minecraft.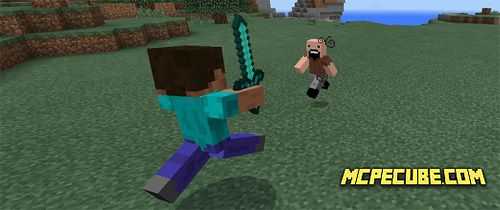 Herobrine

The mod is designed for connoisseurs of exciting battles. Players will enter into a live PvP battle and will face survival challenges. To summon Herobrine, a Minecraft PE user must create a special spawn structure.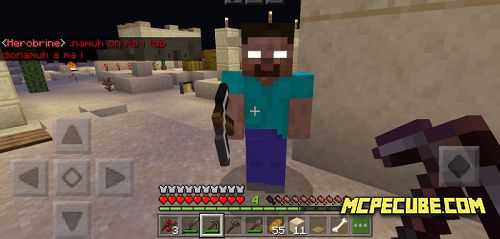 To do this, you need to get, by exchanging iron and pumpkins, blocks of the soul and the hero.

If you don't feel like doing it, you can just type /summon iron_golem.

The arrival of the Herobrine entity triggers a spectacular explosion, heralding the commencement of the eagerly anticipated showdown. The creature with its piercing white eyes launches fiery projectiles, while its formidable legion of desiccator skeletons stands by, providing unwavering support in this epic clash.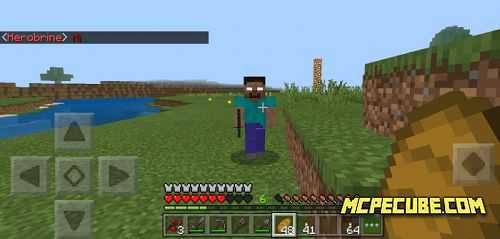 Ultra

With this mod in Minecraft, the player has a unique opportunity to clone Herobrine, release powerful fire projectiles and deal incredible damage, reaching over a million units. This version also includes an infernal biome where trees without leaves are found, creating a special atmosphere.

With the advent of the Sword of God, Steve now has a reliable weapon that will allow him to win the epic battle with Herobrine.
Herobrine Addon for Minecraft PE