Classic Minecraft Texture V3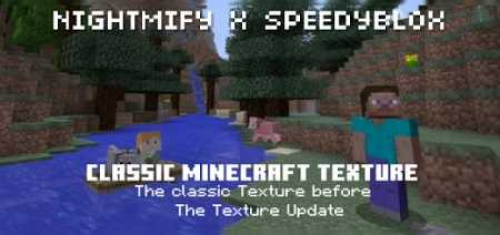 Surely there are fans of the original textures of the cubic universe among us, but sometimes would like to make some blocks more modern. To do this, I suggest installing Classic Minecraft Texture. With this build, you can keep the unique classic style, but at the same time add elements of innovation to some mobs and blocks.

In the new version of these textures, the author has expanded the list of blocks and mobs that this add-on applies to.

Mobs from the Wild Update

Warden:




Frogs:




Allay:




Most aggressive mobs:




Creatures from the Nether Dimension:




Changed water texture:




Updated blocks in the Mangrove swamps biome.

Villagers received new skins:




Also, the author changed some sounds:
closing/opening doors and sunroof;
some buttons

Blocks in the Nether world have become smoother.




Glass looks cleaner and more transparent now:




Harvest also changed the texture:




Food items have received an updated look


Lava has a new pattern:


Classic Minecraft Texture V3