City of infinite Map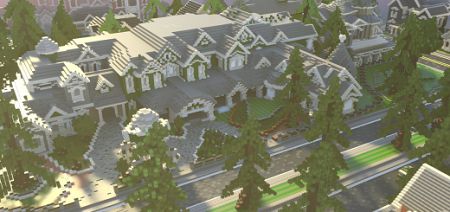 On the City of infinite map (Java + Bedrock download) you can feel like a successful millionaire, walking through the forked out areas and enjoying the beauty of a rich life. This map is perfect for a relaxing holiday and enjoyment.

The territory of the map contains luxurious houses and villas, flowering gardens, beautiful streets, tall skyscrapers, huge cruise ships and many other elements. It is a great pleasure to walk around the territory.

The map supports Minecraft PE version 1.18.0+.

You can create your own villa in which you can then live.

Many houses have everything you need to live: a small guest house, a backyard pool, a lawn for relaxation. Many buildings are already stocked with furniture and decorations.

There is also a 19th century Victorian wooden manor house in the area.

In edition, near the mountain there is a house in a modern style.

In the mountain, you will find a cruise ship docked. Just take a look at it.

The entire territory is covered with greenery, huge trees create a certain atmosphere of comfort. You can walk in parks and forests.

This map of a huge city impresses with its scale and beauty. Even there is a train station in the city where trains arrive.